修 女 鳥 南 角 河 岸 高 級 公 㝢
LES SOMMETS CONDOMINIUMS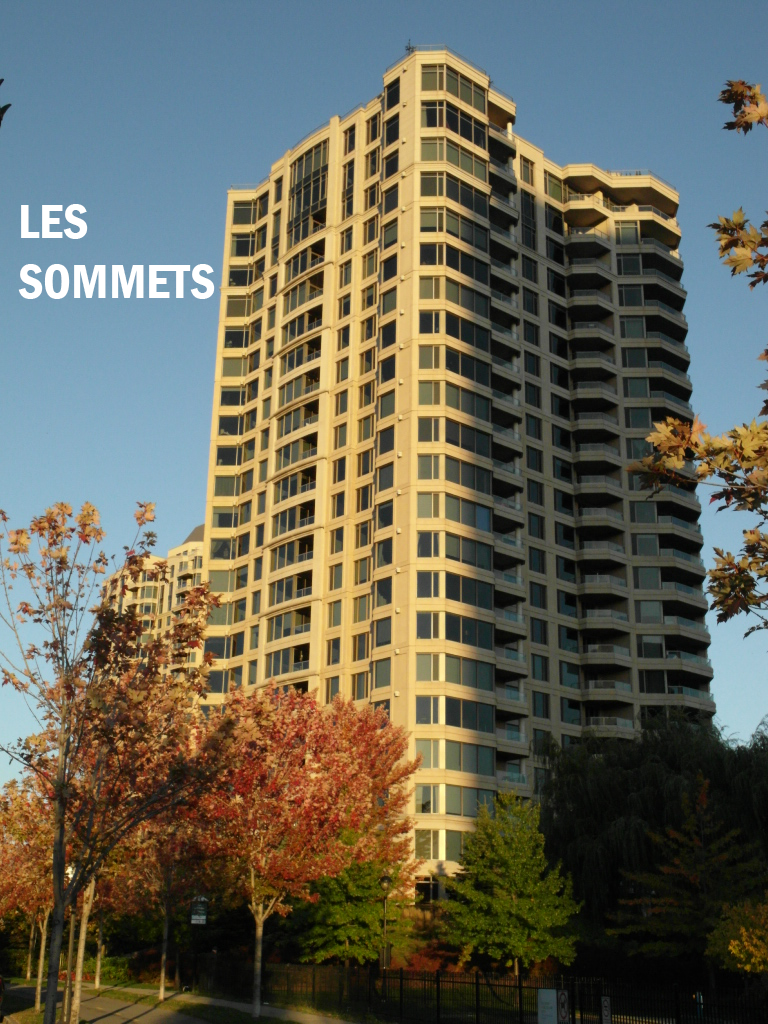 LES SOMMETS I
22 étages/125 unités - 22 floors/125 units
100 AV DES SOMMETS, MONTREAL QC
​H3E 1Z8

LES SOMMETS II
22 étages/154 unités - 22 floors/154 units
200 AV DES SOMMETS, VERDUN QC
H3E 2B4

LES SOMMETS III

2 tours /

2 towers


22 étages/342 unités - 22 floors/342 units300 AV DES SOMMETS, VERDUN QC
​H3E 2B7
---
Les Sommets - Tours dorées à l'île des Soeurs

La nature, le fleuve, des jardins paysagers, des piscines, un sauna, un centre sportif, le paradis à la portée des plus raffinés aux Sommets sur le fleuve.

À quelques minutes du centre-ville, les copropriétés les Sommets sur le fleuve sont érigées sur un site extraordinaire situé sur la pointe sud de l'île des Soeurs. «Les Sommets sur le fleuve offrent des vues magnifiques sur le Saint-Laurent, les rapides de Lachine, le boisé et le centre-ville.

Appartement unique

Chaque unité sera aménagée de manière que la conception de l'intérieur converge avec la vue périphérique extérieure. De 830 à 3500 pieds carrés, les appartements comprennent une salle de bain des maîtres avec douche en vitre et bain séparé ainsi qu'une salle d'eau pour les invités. Une salle de lavage, une cuisine aménagée au goût des acheteurs, une salle à manger, un vivarium, une salle de séjour, de une à trois chambres à coucher et une terrasse complètent le portrait de ce milieu de vie de très grand luxe.

Un bâtiment séparé reliera la phase III des Sommets à la phase IV et servira de hall d'entrée commun aux deux tours.

Grand hall

De facture audacieuse et luxueuse, ce hall dont les murs et la toiture sont recouverts de panneaux de bois comportera une verrière de 28 pieds de hauteur s'ouvrant sur une vue imprenable du fleuve et de ses eaux rapides.

Un centre sportif vitré est situé entre les deux tours. Il comprend une salle d'exercice dotée d'équipements modernes, une piscine intérieure de 15 mètres, un bain à remous sous un puits de lumière, et un sauna mixte ouvert à l'année. Il est également possible de pratiquer son swing de golf dans la pièce aménagée à cet effet. Deux salles thérapeutiques sont également aménagées. Un local de billard, une bibliothèque dotée de tables à cartes et d'un foyer, et une salle de réception complètent le tableau de ce havre raffiné.



Les Sommets - Golden Towers on Nuns' Island

Nature, the river, landscaped gardens, swimming pools, sauna, fitness center, paradise within reach of the finest in the Summits of the river.

Minutes from downtown, condominiums Summits on the river are built on an extraordinary site on the southern tip of Nuns' Island. "The Summits of the river offer beautiful views of the St. Lawrence, the Lachine Rapids, the woods and the city center.

Unique apartment

Each unit will be set up so that the interior design converges with the outer peripheral view. From 830 to 3,500 square feet, the apartments include a living master bath with glass shower and separate bath and a powder room for guests. A laundry room, a fitted modern buyers kitchen, a dining room, a vivarium, a living room, from one to three bedrooms and a terrace portrait of a place to live very luxurious.



A separate building will connect Phase III Summit Stage IV and will serve as a common entry hall towers.

Sumptuous entrance

Bold and luxurious, the entrance hall whose walls and roof are covered with wooden panels include a canopy 28 feet high opening onto breathtaking views of the river and its rapid waters.

A glazed sports center is located between the two towers. It includes an exercise room with modern equipment, an indoor 15-meter pool, a hot tub under a skylight, and a mixed sauna open year round. It is also possible to practice his golf swing in the room provided for this purpose. Two treatment rooms are also appointed. A pool room, a library with card games tables and fireplace, and a reception room complete the picture of this sophisticated haven.



---
Caractéristiques

Superficie des appartements de 830 à 3500 pieds carrés
Piscine intérieure (15 m) et extérieure (20 m)
Gym, bain à remous, sauna
Salles thérapeutiques
Bibliothèque
Salles de jeu et de réception
Espaces de stationnement sous les édifices
Plafonds de 9 à 11 pi
Service de concierge 24 heures
Caméras de surveillance
Parcs, sentier pédestre
Pistes cyclables et de ski de fond

Amenities

Apartments size range from 830 to 3500 square feet
Indoor pool (15 m) and outdoor pool (20 m)
Gym, Jacuzzi, sauna
Therapeutic Salles
Library
Games halls and reception
Underground parking spaces
Ceilings 9 to 11 feet
Doorman service 24 hours
Surveillance Cameras
Parks, hiking trails
Bike trails and cross-country skiing
---