Journal
Water as luxury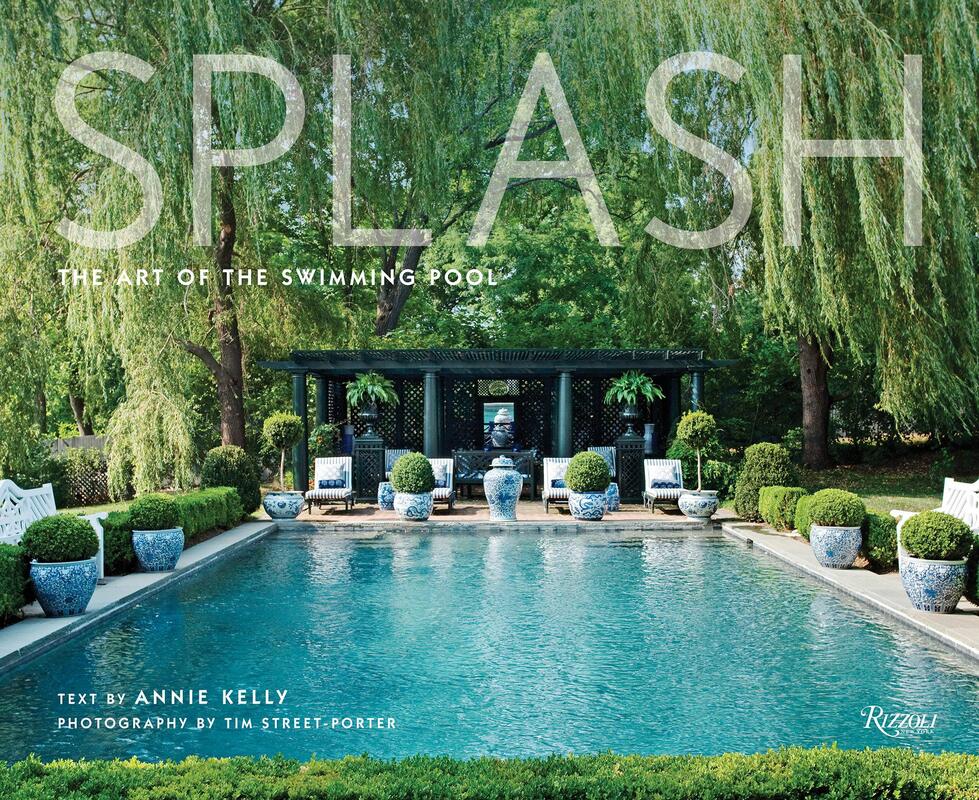 For a dose of pure escapism, it's hard to beat Splash: The Art of the Swimming Pool by architecture photographer Tim Street-Porter and design writer Annie Kelly (Rizzoli, $55). Illustrated with over 200 glamorous photographs, it's arranged by swimming pool type so you can immerse yourself in any style you choose. There are covetable infinity pools with ocean views, nature-style cascading waterfalls and lush private garden settings. A smattering of celebrity pools is in the mix – think Cher and Doris Duke, whose legendary Shangri La estate in Hawaii makes an appearance. Famed architects Frank Lloyd Wright, Richard Neutra and Luis Barragán also get a look-in (the latter's creation, decorated in a vivid pink, is shown below). The exotic locations on show range from Malibu to Mexico and Bali, and at the end of the book there's a section on tiles, patterns, fittings and furnishings in case you need inspiration for your own design.

Montreal backyard plunge

A friendly neighbour with a backyard pool is a rare treasure, someone to be schmoozed in hope of a precious invite for a dip on a hot summer's day.

On a plane looking out the window as your flight lands in Montreal, every house in the West-Island suburbs has a blue dot, a swimming pool. Not long ago, until 2000, a backyard pool in Nuns Island is a rarity, today many houses in the Pointe-Sud area have a pool.

Pool house

Nuns Island

$2,000,000
​Family home

| | |
| --- | --- |
| Vaudreuil sur le lac | Family home |

| | |
| --- | --- |
| Montreal | Mid-Century Modern home |
Swimming pools

Few architectural typologies have the power to invoke a sense of being dual-natured quite like the modernist swimming pool can. The design of pools themselves implies that there are moments of activity both above and below the water. Above, and in the more obvious and visible sense, pools act as a space for leisure and athletic training. But underneath the surface, swimming pools have a long-standing history of acting as symbols of surveillance, death, and social conditions associated with an economic class.

Europe also saw an increase in the desire for pools as a balance of public and private spaces. One of the most well-known examples of modern swimming pools, although unbuilt, was Adolf Loos' design for the Josephine Baker House. In what can only be speculated as Loos' obsession with Baker's celebrity and iconicity as a modern Black woman in Europe, the home was designed to make her the primary object and guests to be the viewing subjects. Contained within the infamous black and white striped walls of the home, the swimming pool represented ideas about performance, clandestine observation, and the objectification of the male gaze. The large glass windows that would allow visitors to watch Baker swim, as Kurt Under, a colleague of Loos' claimed, created the perfect setting for a voyeuristic "underwater revue".

Swimming pools also appear as a large subject of art, particularly in the well known

David Hockney painting, A Bigger Splash (1967)

. The painting conveys the motion of water that breaks the blue placidity as a trace of human interaction after leaping from the diving board, and the backdrop of a traditional and modern Southern California home represented as simple and colorful planes. Now, often claimed as a renowned symbol for the desired life of a Los Angeleno, A Bigger Splash has helped to further ingrain the aspiration of owning a backyard with a private watering hole-making this region almost synonymous with swimming pools.

A swimming pool, especially a well designed one, is now a suburban status symbol filled with the same ideals as the pools of the elite that provide a sense of freedom. While a public pool comes with few restrictions and limitations on who can enter, a private pool requires a sense of exclusivity and is to be used by invitation only. They have the power to transform a home into a resort, and serve as a place where people could escape from the daily grind, and recreate into their alter egos.

It's hard to name something so commonplace and simple of an idea as a swimming pool that is held in such highly commoditized regard as it relates to economic success. Pools, whether public or private, large or small, above or in-ground, are filled with meaning- all it takes is a peek below the surface.

Roman Villa Gardens

Influences can be seen in more contemporary garden designs today.
​

The conspicuous use of water in roman luxury villas has a precedent in the Near Eastern ornamental pleasure gardens, or paradeisoi.

"If you have a garden and a library, you have everything you need." – Marcus Tullius Cicero

Cicero's letters give us a much clearer picture of ancient Roman villas than most history books.

"If you have a garden in your library, you will want for nothing." ~ Marcus Tullius Cicero

Water was of great significance to Roman Gardens. Ancient Romans viewed water not only as a necessity of life, but also as a thing of beauty. It's no wonder that the ancient gardens found in remnants of the Roman Empire are filled with water features.

These gardens' influences can be seen in more contemporary garden designs today.

Classic Italian Garden

The Renaissance Era added form to function, beauty to bounty, embellishments like marble statues and balustrades, terra cotta pedestals for statuary, and fountains of spraying water in sunlight. Topiaries and hedges clipped from box and ilex formed green architecture to provide framed views through terraced gardens and vistas of the countryside beyond tall cypresses and pines. The landscape became a balance of cultivated greenery and natural forest, called a boschetto.

What we consider the classic Italian garden structure is exemplified by the Villa de Castello of the 16th-century Florentine Medicis. Axial organization linked separate gardens, a design concept incorporated at the Palace at Versailles in Paris and later at the Governor's Mansion in Colonial Williamsburg. As breathtaking as these old villa gardens are to visit, they appear too grand for many of us today, unless we've been blessed with spacious acreage and financial resources. Yet, backyard gardeners like me can learn a thing or two about design and structure and apply those lessons to a smaller scale. Statuary and water features on a small courtyard, for example, a bench at one end of an herb garden enclosed by boxwood, an allee between a double row of trees or an interlaced arbor of vines—all easily are adaptable in today's ornamental pleasure gardens.

Without a pool, in my own backyard garden, I have adapted several of these elements. What would have been a hortus in ancient times has evolved into an English-style garden of roses, peonies, iris, cat mint, veronicas, lilacs, dogwoods and a magnolia. A low box hedge encloses an axial herb garden with four parterres, a center sundial on a pedestal, and a bench arbor against the back wall.

Italian elements grace the courtyard: a yew hedge on one side, an Italianate wall fountain, urns and planters of Boston ferns and geraniums, table lanterns, black wrought iron seating and glass-topped tables. A pair of pillars supporting large urns flank the exit into a rosarium featuring an armillary.

And my library is just inside glass doors that I leave open in summer as tribute to la casa aperta. Cicero would smile, I'm sure.